FinLens OS / FlyEye Software
Screenshot :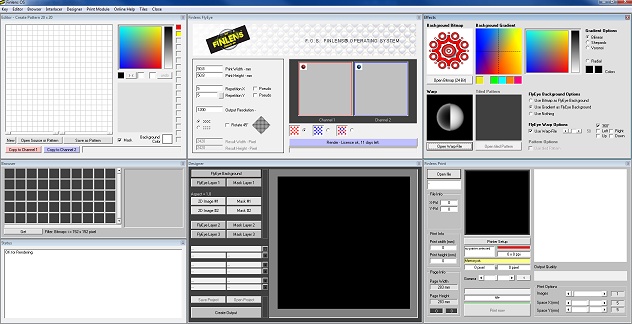 System requirements
Windows PC, State of the Art.
Screen resolution of 1920 × 1200 pixels.
Printer with 1200 dpi resolution.
License Key
To initialize the program, a license key is required. This is sought or requested at startup. If a key is already stored, the program is immediately ready for use. If no key is stored, you will receive a "FinLensKey.zip" from your service provider. "FinLensKey.zip" can not be unpacked. Copy "FinLensKey.zip" in the program directory. Reference to the program in demand ("Point to Key File") on this file. The program is then ready for operation. Delete "key.zip" not. The license has – when it was otherwise determined by the supplier – valid for 30 days.
Data Format Info
All modules of the program to work with 24-bit RGB data in BMP format. When BMP format ensures that it will be no incompatibilities in the long term. TIF, PDF and PSD data are too diverse and subject to constant changes, so that newer format versions over time could lead to conflicts, this would affect the reliability of the program, which is why we do without it. Only the Designer module is the last instance in the design chain uncompressed TIF data. To be able to feed the results without further conversion into your workflow.
More Finlens software modules
– Flip Classic (- the program described above – created 2-phase flip Interlacings)
– Animator Pro (Interlacings created for animation, morph, zoom and multiple flips)
– 3D interlacer (created Interlacings for 3D Lenticularbilder from existing 3D image sequences)
– FinLens OS (created designs and interlacing for FlyEye lenses)
These software modules based on the 3DZ Lenticular Suite 7, which makes available extensive additional tools for the design of lenticular designs: 2D3D layer 2Dzu3D volume conversion, 3D integral images and more.
We support you with pitch test pressure data and test patterns for quality control in your production.
If you need help in technology and design, we are here for you.
We have more than 20 years of practical experience in lenticular design and printing.
Our service precursors also solves difficult tasks.
In our studio in West Germany, we offer training and workshops.
DOESN´T WORK WITH APPLE MAC O.S.